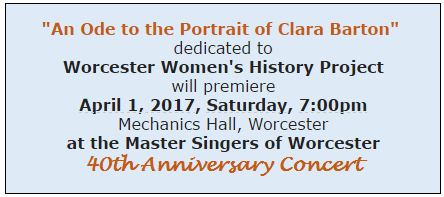 The Ode was composed by Malcolm Halliday, MSW Artistic Director.
As a bit of history, Master Singers and WWHP have collaborated in concerts…….
…March 4, 2000 – Women's Voices, a collaboration of the Worcester Women's History Project with the Master Singers of Worcester and Preservation Worcester; music program of choral compositions by women and lecture on Tuckerman Hall's female architect, Josephine Wright Chapman. Held at Tuckerman Hall.
…March 27, 2011 – Visionary Women concert collaboration with Master Singers of Worcester directed by Malcolm Halliday to celebrate the remarkable achievements of New England women preceded by a lecture by Amy Belding Brown entitled "Emerson's Oracles: Visionary Women in the Transcendental Circle" for the Worcester County Poetry Association. More detail on concert: Settings of text of Massachusetts poets, including Emily Dickinson, Mary Oliver and Worcester-born Elizabeth Bishop, were featured in choral compositions by Gwyneth Walker, Ronald Perera and other contemporary composers, as well as a performance of a new work by Martha Sullivan and William Cutter celebrating Abby Kelley Foster and Lucy Stone. Held at Tuckerman Hall.
The Master Singers commemorate their fortieth anniversary with a rich array of music from around the world including two world premieres by local composers: Malcolm Halliday's "An Ode to the Portrait of Clara Barton", which hangs in Mechanics Hall, and Steve Barnicle's setting of Edgar Allen Poe's "The Bells". The program also includes works by the Norwegian Ola Gjeilo and the Russian Rimsky-Korsakov, as well as Beethoven's Choral Fantasia. The major work on the program will be Canadian Ruth Watson Henderson's epic work "Voices of Earth". Several outstanding guest conductors and performing groups will join MSW, including the Salisbury Singers, the Worcester Children's Chorus, the WPI Orchestra and the Shrewsbury Ringers, along with pianist Olga Rogach and Lynne McKenney Lydick as Clara Barton. This gala event celebrates the long history of collaborations between the Master Singers and the greater Worcester cultural community. It also marks Malcolm Halliday's last concert as MSW's Artistic Director.
Tickets at www.mswma.org
$35; Seniors/Students $30​